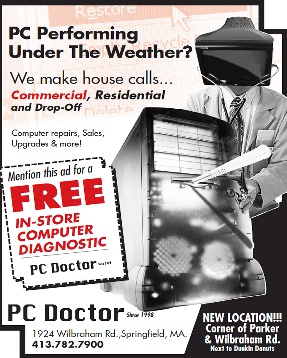 The best in local computer repair!

A little about us.

PC Doctor was founded in 1998 with the goal of providing high quality service at an affordable price. Today PC Doctor provides service to hundreds of small businesses and thousands of residential customers. Over 90 percent of our client are from direct referral or are repeat customers. We believe our foundation of experience and fair pricing has led to our continued success and happy customers.


We offer up-front pricing that we know is better than anyone else in the area. You'll never be saddled with a huge unexpected bill at PC Doctor. In-store labor never exceeds $95 on a single system and the customer must approve any repair that will exceed $100. over 90 percent of repairs are under $100. One other thing that sets us apart is that we will actually tell you if your computer is not worth fixing.

2010 PC Doctor. All rights reserved.

Family Owned and Operated

(413) 782-7900

We Make House Calls!